Septic Maintenance
If you live in a rural area or off the grid, then you are probably NOT connected to a centralized sewer system. This means you likely have a septic system installed on your property. Roughly 20 percent of homes in the United States depend on a septic system. If your building depends on a septic system installation, then make sure you are scheduling routine septic maintenance. Regular septic tank maintenance in Charlotte can be the difference between a septic tank that lasts 40 years and one that gives you five years of hell. If it has been over three years since your last septic system maintenance, then call Charlotte Septic Pros to speak with a live representative and schedule your appointment.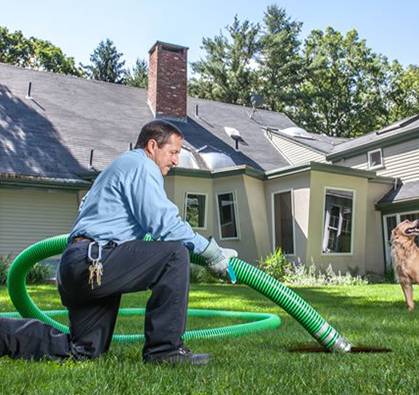 Prevention is Key
A septic system is deceivingly simple. Waste and wastewater travel into the septic tank through an inlet pipe. The incoming wastewater is readily discharged out of the septic tank and through perforated pipes into the drain field, where the liquids percolate and filtrate through the soil. The solid waste remains inside the tank, where it is broken down into sludge by vital "good" bacteria.
The key part of maintenance is prevention. You should be mindful of what goes into your septic system just as you would with a regular sewer system. In fact, you should be even more careful here. Keep food scraps, fats, oils, greases, hygiene products, and other non-degradable items out of the drains! Avoid using anti-bacterial cleaners since they can kill the "good" bacteria in the septic tank. Finally, avoid overwhelming your septic system by staggering water usage. Running the dishwasher and laundry machine while simultaneously taking a shower, for example, can overload your septic system.
Main Maintenance Items
Septic system maintenance includes treating the drain field, testing the soil, and maintaining bacteria levels in the septic tank. The most critical maintenance items are septic tank pumping and septic tank cleaning, however. At Charlotte Septic Pros, we offer a host of maintenance services. Call Charlotte Septic Pros today to schedule your all-inclusive maintenance appointment. This package deal gives you peace of mind knowing your septic system is running at optimal speed. If you have recently purchased your home with a septic system installation and you do not know when it was last serviced, then call Charlotte Septic Pros as soon as possible. It is better to be safe than sorry.
Neglecting Maintenance Can Cost You
Homeowners can come up with many excuses for why they neglected septic maintenance, but these excuses can be costly. Forgetting to pump your septic tank, for instance, can mean wastewater and sewage backups into the living space. It can also mean clogged drains, a damaged and leaking septic tank, and even a system failure! Why put up with that headache when you can schedule quick and affordable septic maintenance in Charlotte? Call Charlotte Septic Pros now.